Data-driven decisions with vadiMAP
November 23, 2020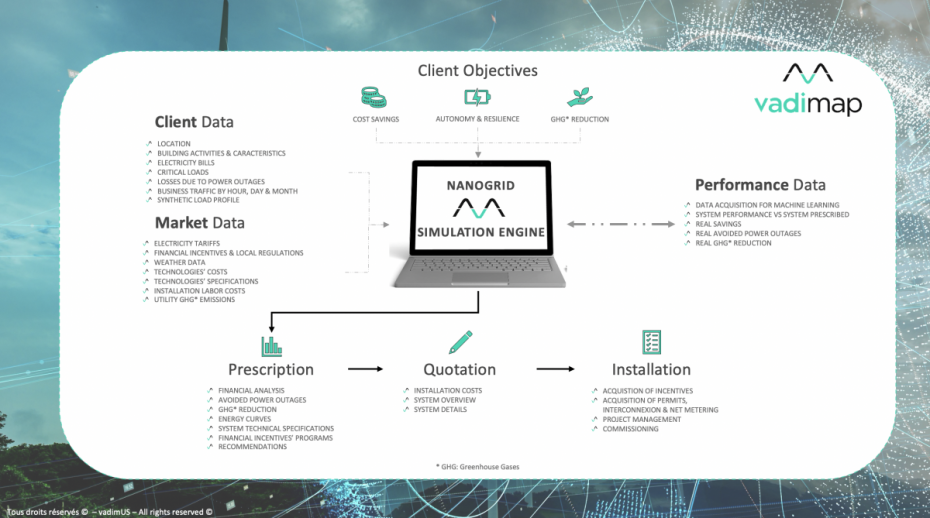 The client journey with vadiMAP starts with the online questionnaire. A vadiMAP project manager will schedule an appointment with the client to assist him in order to gather all the data our NanoGrid Simulation Engine (NGSE) needs to prescribe the best nanogrid. The data collected in that questionnaire is for example: location, building activities & characteristics, energy bills, critical loads, losses due to power outages or business traffic by hour, day & month.
This type of data is called Client Data. We also collect the Market Data. The Market Data enables us to get any information related to the environment of the building. We are talking about: electricity tariffs, financial incentives & local regulations, weather data, technologies' costs & specifications, installation labor costs or utility greenhouse gases (GHG) emissions.
We don't stop collecting data here. To make sure we have the best up-to-date algorithms, we collect the Performance Data. After project commissioning, we compare the performance of the nanogrid to the estimations provided in the prescription report. With machine learning tools, we are able to continuously improve our NGSE in order to remain close to reality when it comes to prescribing nanogrids.
Thanks to all this data, even if no energy consumption data is available, our NGSE generates a synthetic load profile of 8760 hours (a complete year). Then, based on the building's restrictions and the client's objectives, thousands of nanogrid configurations are generated and simulated. On a 25-year project evaluation, the nanogrid configuration with the highest score will be selected. The scoring attributed to the configurations is based on the information we collected in the online questionnaire. Once this optimal nanogrid chosen, a prescription report will be provided with the following:
Financial analysis;
Avoided hours of outages;
Avoided tons of CO2e;
Energy curves;
Technical specifications of the nanogrid;
Local financial incentives' programs;
Personalized recommendations by a project manager;
And more...
The step following the prescription report delivery is the quotation step. Our project office manages the quotation process with the assistance of a prequalified vadiMAP installer in order to provide the final price for the nanogrid installation. In the quotation, the client will notice the overview and the technical details of his nanogrid, as well as the installation costs. Thanks to our partners hub, costs provided in the quotation are really close to those initially provided in the prescription.
In order to achieve the objectives of the client, we make sure to complete the installation of the nanogrid by managing every step of the process and by offering our services to acquire the necessary permits and the available financial incentives. After system commissioning and client satisfaction, our team offers after sales services to track the performance of your system, manage the alarms and maintain your nanogrid through the years.